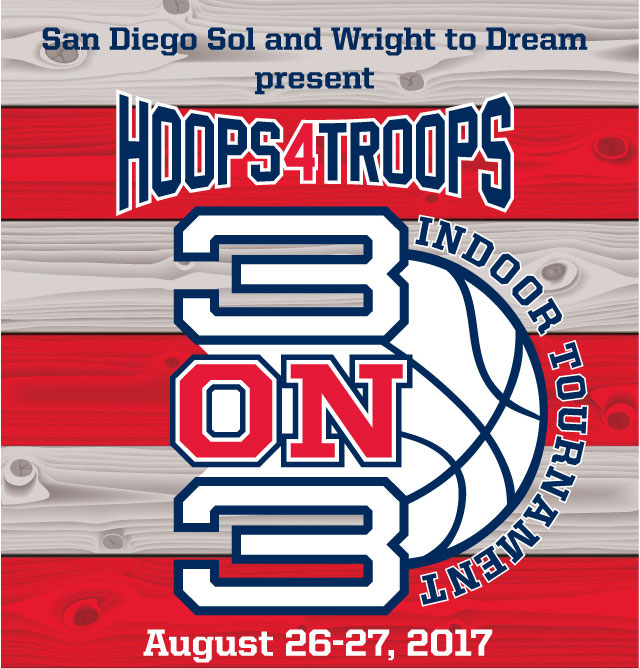 Hoops for Troops is the vision and passion of Coach Corey Wright. After 20 years of honorable service in the U.S. Navy, Coach Wright retired in 2009 and turned to his other passion of coaching basketball. He transformed the Serra High School women's basketball program and turned it into a CIF powerhouse and perennial league champion.
Hoops for Troops is a basketball event with a message – "Freedom is Not Free and That Someone Somewhere is Paying the Price." We thank all the men and women who don the uniform and provide our blanket of protection.
With this tournament we salute all those that daily risk their lives for our freedom and safety. So come join us as we celebrate our courageous heroes and play some basketball in their honor.
Proceeds from this event will be donated to the Aviation Ordinancemen Organization (AAO).
3rd Grade – Adult Divisions
Our Indoor 3 on 3 Tournament will take place on August 25-26, 2018 at the San Diego SportCenter at Alliant International University. This event provides a day full of games, free-throw contests and 3 point contests. All participants will receive a tournament t-shirt.
Can't attend the event but still want to contribute to the cause?
To recognize and honor the men and women who serve our country, proceeds from this tournament will be donated to The Association of Aviation Ordnancemen (AAO).
3 Game Guarantee

Boys and Girls divisions – 3rd/4th, 5th/6th, 7th/8th, High School

Mens Divisions – Open, Mens 6'0″ and under, Masters (50+)

Womens Division – Open

$95 for team with any armed service, police, fire or EMT members

$125

Registration deadline Aug. 21, 2018

Schedules posted Aug. 21, 2018

please note there is a $5 admission charge

3 Point Contest
11am – 1pm/$5 entry fee each time
Free Throw Contest
11am – 1pm/$5 entry fee each time
Schedules posted Aug. 21, 2018
The document below covers all the In Game Rules and Regulations, Tie Breaker Determinations, Player Eligibility/Protests and Game Forfeiture Policy. Please read all the rules thoroughly to make sure your team is in compliance. It is the responsibility of the coach to know and follow all the rules.
RULES

LIABILITY/ROSTER FORM

Alliant University