June 21 – August 31, 2018
3rd Grade – High School Divisions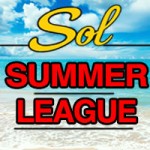 San Diego Sol runs the largest and most organized youth leagues in San Diego. We offer A, B and C divisions to accommodate all levels of teams. We also offer flexible scheduling to accommodate your team's needs. Our friendly and courteous staff will make certain that you have a wonderful experience in this league.
Separate Boys & Girls Divisions

8 Games (no playoffs)

Age/Grade Certification System

$450 Per Team

Registration Deadline: June 17
Full schedule will be out by 7/1/2018
The document below covers all the
In Game Rules and Regulations
,
Tie Breaker Determinations
,
Player Eligibility/Protests
and
Game Forfeiture Policy
. Please read all the rules thoroughly to make sure your team is in compliance. It is the responsibility of the coach to know and follow all the rules.
LEAGUE RULES
The roster form needs to be submitted before your first game…
LIABILITY/ROSTER FORM 

There are no playoffs during summer league.
Alliant International University
10455 Pomerado Road, San Diego, CA 92131
Carmel Valley Boys & Girls Club
3800 Mykonos Lane, San Diego, CA 92130