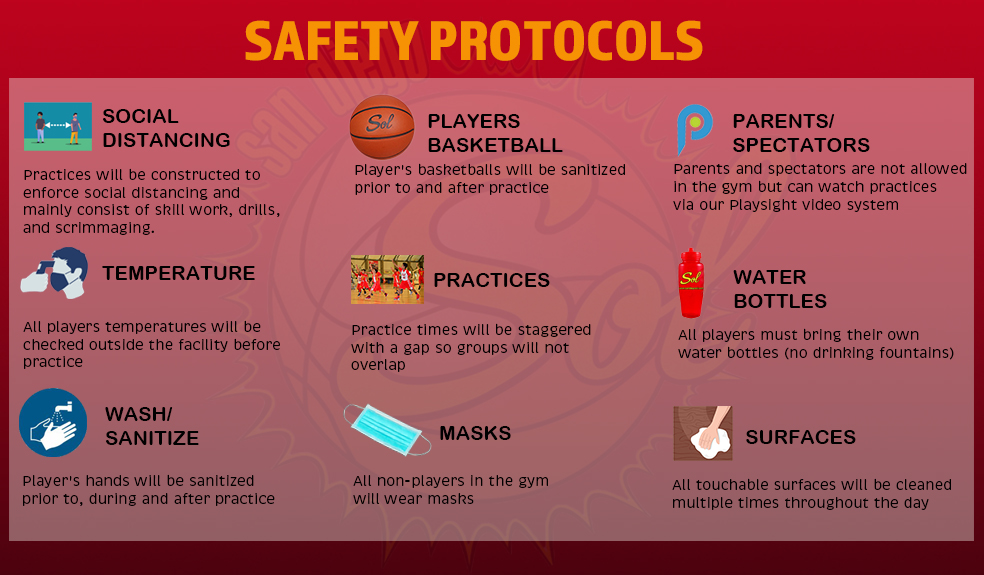 Adherence to County Guidelines
Sol events will follow all county guidelines.
Social distancing protocol will be in place when feasible.
We will have a strict protocol for all events.
Players need to arrive 10 minutes prior to their event time (not earlier) and must leave the site within 5 minutes of the end of their event.
Prior to entering the building, all players should be able to answer "No" to all the wellness questions. Players will have their temperature taken using an infrared thermometer. Any player showing a fever (greater than 100 F) OR symptoms of lower respiratory illness such as cough, shortness of breath, or difficulty breathing will not be allowed entry into the gym.
If staff becomes aware of a player's fever, cough, shortness of breath, etc. after they have checked into the program, that individual will be isolated and parents/guardians will be notified for pick up immediately.
Only players and coaches will be allowed to enter the building.
Players hands and equipment will be sanitized prior to entering the gym. Sanitizing will also occur during and after an event.
There will be a separate entrance and exit for all players.
Players are to bring their own water bottles. Drinking fountains will not be available.