Have FUN with Fundamentals.
Our camps are designed to develop and improve youth basketball skills. The focus of our camps will include not only a lot of basketball games but also the breakdown of basic offense, defense and team skills needed to develop a solid basketball game!
San Diego Sol takes prides in providing an excellent coaching staff using coaches from the local high schools and colleges. These coaches bring a wealth of basketball experience. With a promise to deliver the best teaching of basketball fundamentals, your child is guaranteed to have a great time and become a better basketball player.
Please have your camper bring snacks and plenty of liquids to hydrate. If needed, we do have vending machines that sell water, sports drinks, juices, granola bars, chips and candy. Full day campers need to bring their own lunch.
Adherence to County Guidelines
Sol Camps will follow all county guidelines.
Social distancing protocol will be in place when feasible.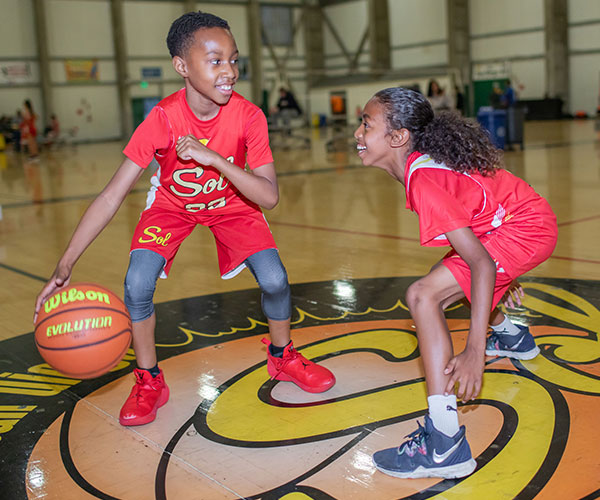 We will have a strict protocol for all practices –
Players need to arrive 10 minutes prior to their practice time (not earlier) and must leave the site within 5 minutes of the end of their practice.
Prior to entering the building, all players will be asked to respond to a wellness screening. Should all responses be "no," players will next have their temperature taken twice using an infrared thermometer. Any player showing a fever (greater than 100 F) OR symptoms of lower respiratory illness such as cough, shortness of breath, or difficulty breathing will not be allowed entry into the gym.
If San Diego Sol staff becomes aware of a player's fever, cough, shortness of breath, etc. after they have checked into the program, that individual will be isolated and parents/guardians will be notified for pick up immediately.
Only players and coaches will be allowed to enter the building. We will have our video system available for you to view the practices from your car.
Players hands and equipment will be sanitized prior to entering the gym. Sanitizing will also occur during and after practice.
There will be a separate entrance and exit for all players.
Players are to bring their own water bottles. Drinking fountains will not be available.
Participants are encouraged to bring water bottles to the workouts, but the bottles must be clearly labeled with the participants name.
Participants will be encouraged to enjoy success with distance celebration ("air" high fives from 6 feet away).
Participants will be encouraged to stay home if they are feeling sick or exhibiting any symptoms of illness.
Details
Boys & girls ages 6-14

Full-day camp: 9am-3:30pm

Half-day camp options:
9am-12pm or 12:30pm-3:30pm

Skill levels can be chosen so groups can be created with like abilities.

Alliant International Univ.10455 Pomerado Road San Diego, CA 92131

All campers receive a custom Sol basketball or camp t-shirt

Extended care available

Registration closes the Friday before each event at 8pm.

No walk-ins accepted

No refunds or transfers. All sales final.

At this time NO parents inside the gym. Our live video system will be available through

PLAYSIGHT

.
2021 Spring Break Camp at Alliant
Full Day
9am-3:30pm
$310 General
$260 Sol Player
Half Day
9am-12pm
$185 General
$160 Sol Player
Half Day
12:30pm-3:30pm
$185 General
$160 Sol Player
A Sol player is a player who plays on a Sol team and wears a Sol uniform.