June 27 – August 16, 2020
3rd Grade – High School Divisions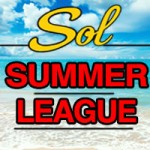 San Diego Sol runs the largest and most organized youth leagues in San Diego. We offer A, B and C divisions to accommodate all levels of teams. We also offer flexible scheduling to accommodate your team's needs. Our friendly and courteous staff will make certain that you have a wonderful experience in this league.
Separate Boys & Girls Divisions

8 Games (no playoffs)

Age/Grade Certification System

Games are Friday, Saturday, Sunday

Games are played at Alliant or PxP

$465 Per Team

Registration Deadline: June 23
REGISTRATION DEADLINE: JUNE 23
The document below covers all the
In Game Rules and Regulations
,
Tie Breaker Determinations
,
Player Eligibility/Protests
and
Game Forfeiture Policy
. Please read all the rules thoroughly to make sure your team is in compliance. It is the responsibility of the coach to know and follow all the rules.
LEAGUE RULES
The roster form needs to be submitted before your first game…
LIABILITY/ROSTER FORM

There are no playoffs during summer league.
Alliant International University
10455 Pomerado Road, San Diego, CA 92131
Play by Play Productions @ Edenpark
1601 San Elijo Road S San Marcos, CA 92078
(Located approximately one mile south of the Albertsons off of Baker Street or one mile east of Rancho Santa Fe Road)