In Sierra Campisano's room, near the bright pink beanbag chair, is a desk with shelves. Not far away, there's a second desk. And a night table. All overflowing with books.
Campisano, a 6-foot-3 forward at San Diego's Torrey Pines and an Oregon recruit, said her books even tend to "drift" to the downstairs part of the house and into her mom's car.
She also keeps more than 50 spiral notebooks, crammed with stories she's written since fourth grade.
Her passion for literature is so profound she even took a book to prom last year, childhood favorite "The Penderwicks," keeping it in her purse just in case she had the need to read.
"I have a big imagination — reading and writing are ways for me to use that," Campisano said. "When I read, I totally immerse myself. I think all the characters are real.
"When I write, I like creating my own little world and putting it all down on paper."
So what's the book on Campisano's basketball game?
So far, it's chapter after chapter of superlatives. There's more to be written, but the highlight so far came as a junior last season, when she averaged 24.7 points, 12.6 rebounds and 6.0 blocks and helped Torrey Pines (21-10) make the state playoffs for the first time.
Given all that, it's no wonder Campisano is No. 14 in the espnW HoopGurlz Top 100 for the 2016 class. She is part of what is about to be a stellar Oregon recruiting class that is long on length and talent — four players 6-3 or taller and four players ranked among the nation's top 100 prospects.
The tallest recruit is Lydia Giomi, a 6-5 post from West Seattle (Washington). But there's also No. 45 Ruthy Hebard, a 6-4 post from West Valley (Fairbanks, Alaska), and No. 59 Mallory McGwire, a 6-4 post from Reno (Nevada).
Oregon also got a pair of guards in 5-9 Morgan Yaeger of Australia and No. 96 Jayde Woods, a 6-1 wing from Windward in Los Angeles.
"It's amazing," Campisano said of the Ducks' recruiting class. "Everyone is so talented in their own way."
Oregon's good fortune may not end there.
The Ducks are also in the hunt for No. 4 Sabrina Ionescu, the standout 5-10 guard from Miramonte (Walnut Creek, California) who is also considering Cal.
Learning the way
Campisano is the oldest of three siblings, and her two brothers also play basketball.
Their parents are both teachers. Gino, a math teacher at Torrey Pines, is 6-3 and was a surfer in his younger years. Cristina, who is 6-2 and a middle school teacher, was a Division I basketball player at Northern Arizona.
Sierra's maternal grandfather, Larry Willis, was a 6-6 center for San Diego State in the 1960s and later coached Cristina in high school.
It was Cristina who taught her daughter the game, insisting that she shoot on a lowered basket — roughly 7 feet — until she was about 10 years old.
"A lot of people made fun of me, saying that Sierra should be playing club ball," Cristina said. "But I was real crazy about making sure she had the right form before she started playing. My dad did the same thing with me."
Cristina said Sierra was so intent on eventually playing at Torrey Pines that she followed the plan without dissent.
That's not to say Campisano is immune from being demonstrative. Playing board games such as Scrabble with the family usually ends up in flying game pieces, name-calling and other fits of temper, with Sierra and youngest brother Diego the biggest culprits.
Once, when Sierra was just starting out in sports, her soccer team allowed a goal. Sierra got so upset she tried to chase the girl down before her coaches intercepted her.
"She had the meanest look on her face," Cristina said with a laugh. "She was 5!
"Sierra wears those two braids like 'Little House on the Prairie.' But then a game starts, and you don't want to go against her."
Here comes Sierra
After finally mastering the correct shooting stroke, Campisano started to tear it up on the AAU circuit with the San Diego Sol. Campisano got so good that her reputation preceded her at Torrey Pines.
"When I was freshman, there was a lot of talk about Sierra coming to the team, and I was intimidated and worried if she was going to take my spot," said Tierra Eshom, who played for Torrey Pines until she graduated last spring.
"I didn't know what kind of ego or dynamic she was going to bring to the team. But when she came, it was the total opposite. I never met somebody so humble in my life."
Campisano, who wears the same number (52) her grandfather and mother used in their playing days, was an immediate hit, scoring 27 points, grabbing 20 rebounds and blocking 15 shots in her varsity debut as a freshman.
She found that the shooting form she learned from her mother worked.
"I still shoot up high," Campisano said of her release point. "She gave me that foundation. I shoot a true jump shot where I jump, and I pause, and I release at the height of my jump."
In the ninth game of her freshman year, Campisano again put up 27 points. But right after that, she was leveled by what she thought was a stomach flu that had hit virtually the entire team.
Campisano endured the stomach pain for a few days. Finally, on the day after Christmas 2012, her family took her to the hospital. "She wasn't getting better," Cristina said. "She could barely stand up."
As it turned out, Campisano was suffering from appendicitis. She spent her 15th birthday (Dec. 28) in the hospital, as well as New Year's and more.
Due to an infection, she was there three weeks and didn't return to the court until Feb. 8.
The nurses, who knew she was an athlete, brought Campisano a little hoop — the kind that attaches to a door — and a ball. Campisano practiced while her parents and brothers served as rebounders.
Campisano, who was 6-2 at the time, lost 50 pounds, shrinking from 160 to 110. None of her clothes fit.
"That was not a good look for me," Campisano said. "It was a crazy experience.
"The worst thing for me was that it was in the middle of basketball season. I had just made the varsity, and I was making a difference. I loved what I was doing, and then it was taken away."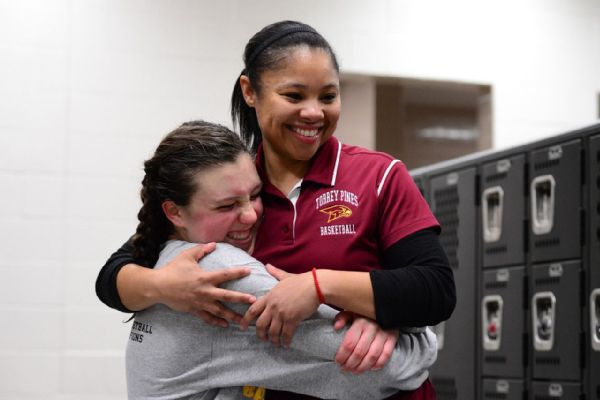 Campisano played the final four games of her freshman year and has been healthy — and productive — ever since.
Torrey Pines coach Denise Bennett said Campisano watches herself on video and takes notes, scribbling things she needs to do to improve.
Sometimes those video sessions will happen in Gino Campisano's empty classroom, just before practice. Sometimes, Bennett and Sierra go to Starbucks and watch video on the coach's laptop.
"Sierra rewinds things, runs it in slow motion," Bennett said. "And she takes notes. Even in our conversations, she takes notes."
Campisano, who has a 3.9 GPA and wants to major in communications or education, said she even takes notes while she is being interviewed.
All that information will inevitably end up in a notebook in one of her desks … or the night table … or downstairs … or in the car.
"The reason I take notes," Campisano said, "is to make sure it doesn't go in one ear and out the other."