Please bring plenty of WATER!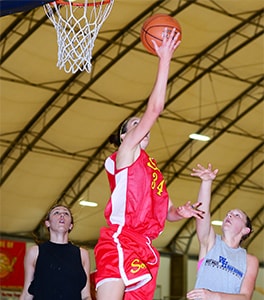 Skills and conditioning…really taught me the central skills early on. I got really familiar with great footwork and the fundamentals of basketball. That really helped.
This program is specifically designed for our advanced players to further their basketball skills and knowledge of the game. We focus on individual skills according to position – post/perimeter. We have also incorporated strength, agility, coordination, and conditioning drills into our program in order to give each participant an athletic advantage.
7th grade – High School Boys and Girls

Players wanting to get in shape

Players who want to get an edge on their competition
Details
Monday, Wednesdays, Saturdays (7th grade – High School)

August 8, 10, 12, 15, 17, 19, 22, 24, 26, 29

Boys 5:10pm-6:40pm & Girls 6:50-8:20pm Mondays & Wednesdays.

Girls & Boys together 9:00am-11:00am on Saturdays.

$275 General

$225 Sol member

Advanced level players ONLY

Play by Play Productions
1601 San Elijo Road, San Marcos CA, 92078